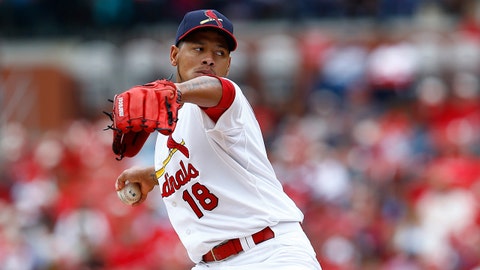 The Post-Dispatch learned from sources close to the situation that Martinez has agreed to a five-year contract worth about $51 million. Martinez is getting a well-deserved raise after leading the Cardinals in wins (16), strikeouts (174) and ERA (3.04) past year.
The Dominican native, who was signed by the Cardinals as a non-drafted free-agent in April of 2010, ranked among N.L. leaders in wins (5th), ERA (3.04, 9th), innings pitched (10th), quality starts (20, 6th) and opponent's batting average (.233, 12th) in 2016.
The Cardinals have been suggesting they are a file-and-trial team now, meaning they will go to the hearing room with the player, barring a multi-year agreement, as was the case with Martinez. The deal also includes two club options for 2022 and 2023.
Furthermore, during last season, Martinez ranked 4th in the entire Major League Baseball for groundball percentage, a stat that is very important for a team like St. Louis which sometimes struggles defensively.
The 25-year-old made 31 starts a year ago, posting a 3.04 ERA and assuming the role of staff ace.
As Martinez said today during his press conference, Adam Wainwright and Yadier Molina have served as a mentor to him and hopefully in a few years, the next crop of Cardinal youngsters can look up to Martinez for guidance.
Martinez is one of the most effective ground-ball pitchers in the National League, inducing 33 double plays and ranking second in the NL with a ground-ball percentage of 57.7.
Martinez was elated to sign the long term deal and have security with the Cardinals and for his family.
The contract breaks the record for a pitcher reaching arbitration for the first time, surpassing the $38.5 million, five-year deal that the Indians signed with Corey Kluber in 2015.
Right-hander Michael Wacha is the last Cardinal scheduled for arbitration.