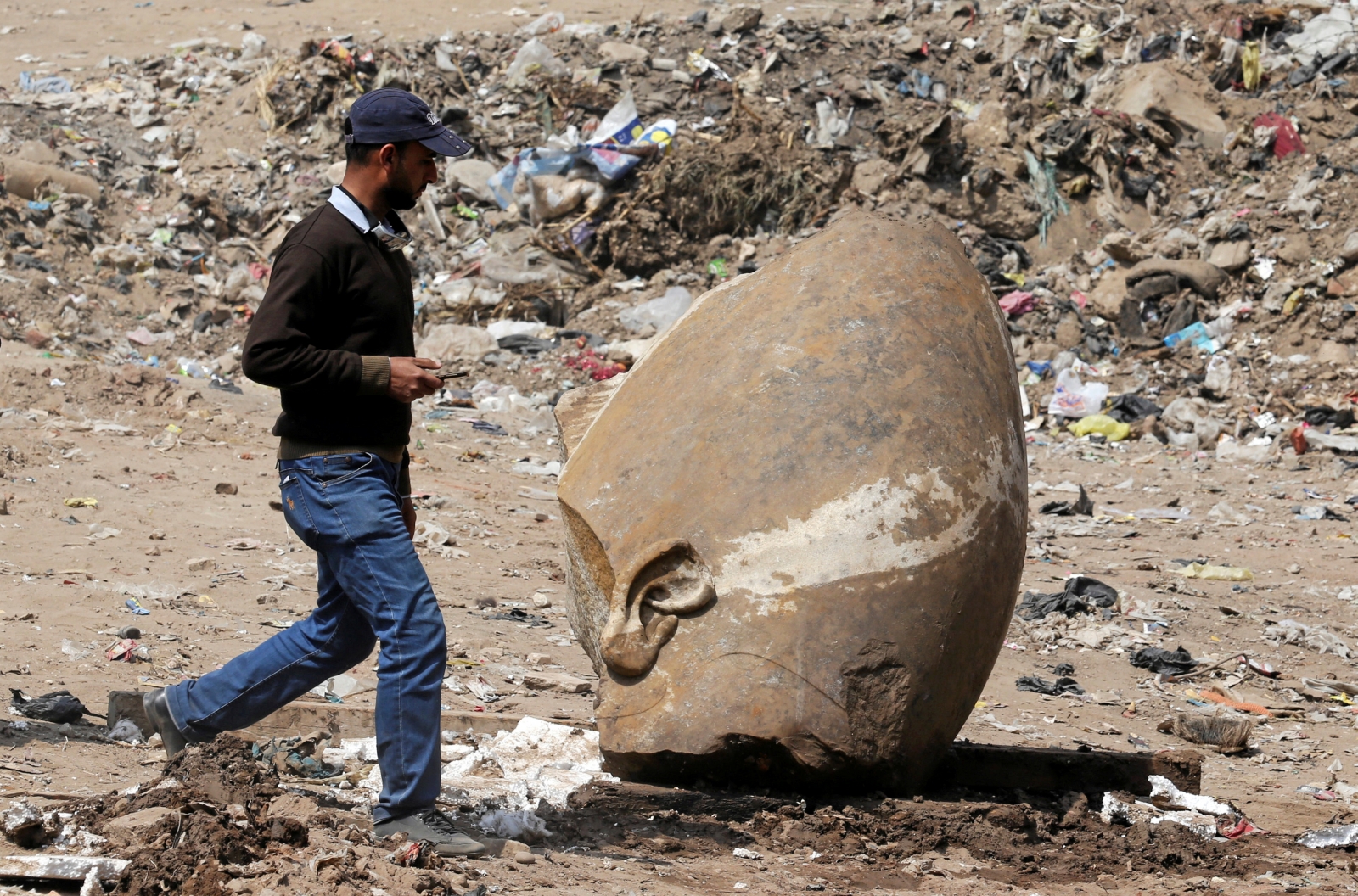 The statue of the powerful and renowned monarch who ruled Egypt over 3,000-years-ago and was found close to Ramses II's temple in the ancient city of Heleopolis.
Although they didn't unearth any inscriptions to identify the rock colossus, they believe that the location of the discovery near Ramses II's sun temple is a pretty strong clue that the statue does indeed depict Ozymandias, the king of kings.
A hugely significant statue has been discovered in the remains of an ancient Egyptian city which is now a Cairo slum, archaeologists have said.
Egyptian minister of antiquities Khaled el-Anani poses for picture with workers next to the head of a statue of Ramses II in Cairo's Matariya district.
In addition to the massive statue, researchers also found part of a life-size limestone statue of Ramses II's grandson, Pharaoh Seti II, Reuters says.
The archaeological area certainly contains other remnants of the Temple of Ramses II.
Experts will now attempt to extract the remaining pieces of both statues before restoring them.
If the larger find is confirmed to depict Ramses II, it will be displayed at the entrance of the Grand Egyptian Museum, which is set to open in 2018.
There are many statues of Pharaoh Ramses II, but the new one (not pictured here) has archaeologists particularly excited.
Teams of Egyptian and German archaeology dug up the statue on Tuesday using a mechanical digger, while locals and camera-wielding news crews watched on.
He is credited with expanding ancient Egypt's reach as far as modern Syria to the east and modern Sudan to the south.
"That's what I always tell the people here when they ask if there is anything important". His best-known contributions are two temples carved into the cliffs of Abu Simbel, which feature four colossal statues of the king. "But. the king never lived in Matariya, because it was the sun god living here". "According to the pharaonic belief, the world was created in Matariya", Raue said.
Hawass told Ahram Online that he called the German excavation mission head, Dietrich Raue, who sent him a complete report on the excavations with photographs revealing the lifting process.