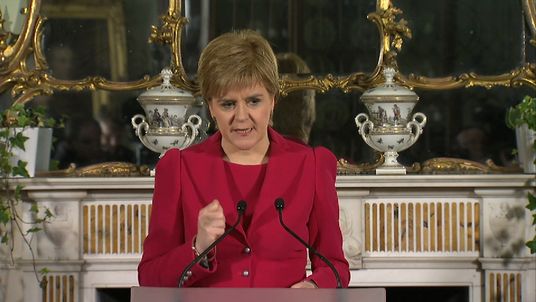 Scottish independence was thrust back into the center of the Brexit debate this week as Scottish leader Nicola Sturgeon called for another referendum on the subject.
She said: "More than that I think it wouldn't be fair to the people of Scotland because they'd be asked to make a crucial decision without the necessary information, without knowing what the future partnership will be or what the alternative for an independent Scotland would look like".
The Scottish Government presented a comprehensive set of plans and suggestions at the end of a year ago to prevent Scotland being taken out of the single market and avoid a Tory hard Brexit.
"We should be working together to get that right deal for Scotland, that right deal for the UK".
"The first minister has made clear her preferred timescale and that is the timescale we're working to", he said.
However, Scottish Labor leader Kezia Dugdale today backed May's decision to block the referendum. "That's my focus, and I think it should be the focus of us all", Ms May told ITV News.
She said that a refusal to allow a vote would mean that May's Tories were blocking the will of the Scottish people and afraid of their results.
She accused the United Kingdom government in London of trying to "lay down the law" to a Scottish Parliament in which her pro-independence SNP was the largest party.
"Any bid by the UK Government to block the people of Scotland from making a choice will be untenable, undemocratic and totally unsustainable - and clearly shows that the UK Government recognises it is out of step with the Scottish people", she said in a statement. "That's the difference between Scotland's two Unions", McCaig said.
A separate Scotland faces spending years outside of the European Union single market even if it votes for independence, Iceland has warned.
She pointed out that in case a vote was going to be held, it would have to take place after Brexit.
Ms Sturgeon was accused by Brexit Secretary David Davis of deliberately stoking rows over Britain leaving the European Union to fuel her independence campaign. Polling expert John Curtice told Business Insider that doing so would cause a surge in support for independence and be "politically catastrophic".
We must have the option open to the people of Scotland to secure a new vote - that is what the First Minister is calling for.
There is one other common denominator between them, and to this we can add Fianna Fail's plans for Irish unity: they all want "independence" but want London to continue to subsidise their standard of living!