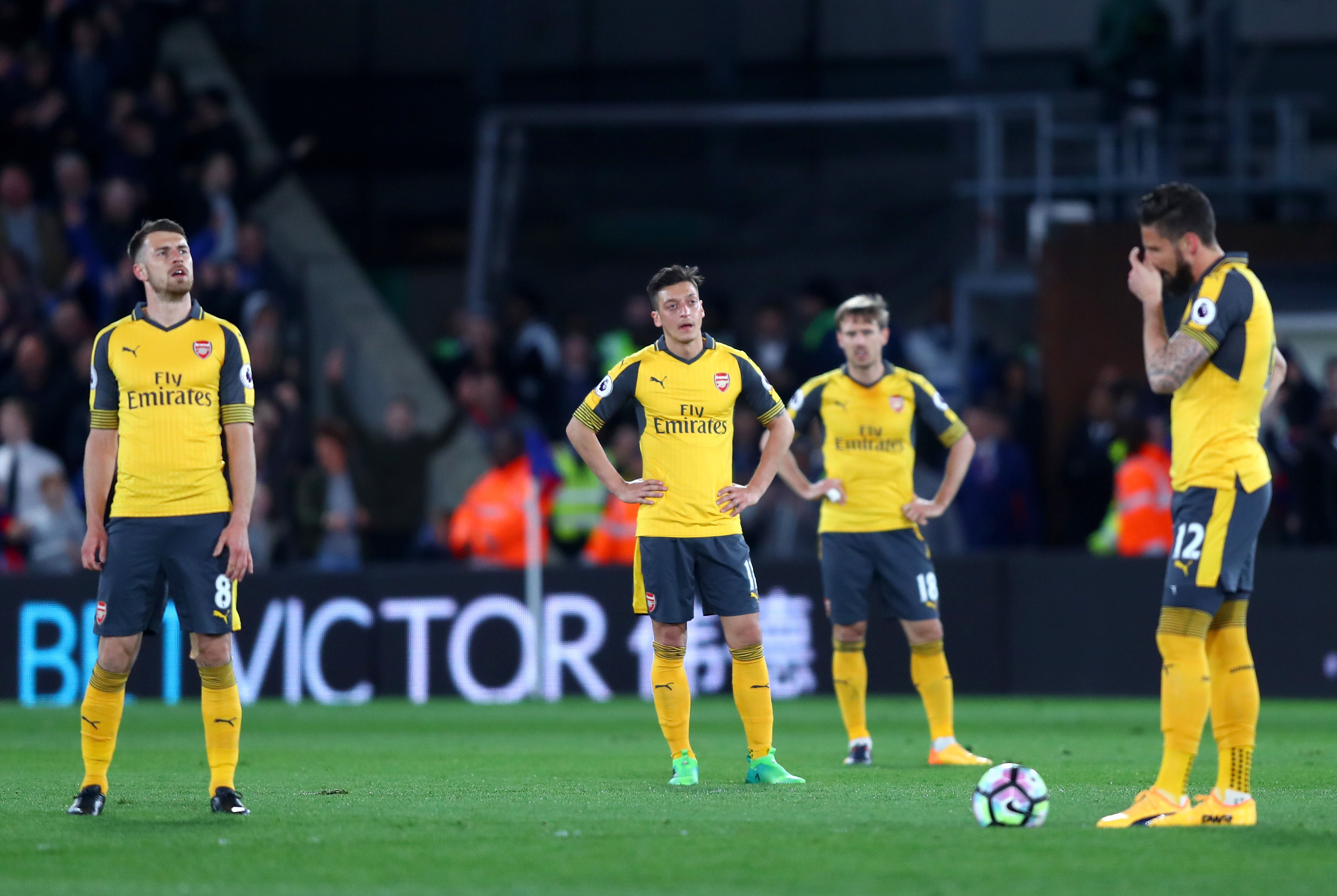 Newspapers, pundits and former players poured fresh scorn on Arsenal and their besieged manager Arsene Wenger on Tuesday following Monday's dismal 3-0 defeat at Crystal Palace.
On the night, Andros Townsend opened the scoring whilst Yohan Cabaye swept in a sweet second half strike to double the Eagles' lead, with Townsend winning a penalty despatched by Luka Milivojevic.
"We don't go out there to lose games, we try to work the best we can but tonight it just didn't happen".
"I understand our fans are disappointed and we all are deeply tonight".
Wenger refused to reveal what he told his players in the dressing room, but acknowledged that his side's top-four hopes have been dealt a major blow.
"I think they just wanted it more". When asked about finishing in the top four, he responded: "Very hard, certainly."I want the fans to support the team".
The loss to Palace was the third defeat in the past five league games, and the Gunners are now down to sixth place in the standings after Manchester United took a 3-0 win over Sunderland.
No Arsenal player is now popular with the fans, but Bellerin, who has been linked with moves to Manchester City and Barcelona, appears to be a boo-boy for some sections of the support. "The top four is very hard, certainly".
Wenger has guided Arsenal to a top-four finish and Champions League qualification in every season of his 21 years in charge, but Vyas echoed Jamie Carragher's comments from Monday that trophies were more important.
But Micky Gray told Jim White on talkSPORT Arsenal should look closer to home, and focus their attentions on hiring Palace boss Allardyce as Wenger's successor.
Wenger continued: "We played with a desire to win the game with an offensive team".
"I'm disappointed and determined to put things right", Wenger said. You could sense that from the kick-off and it was an uphill battle towards the end there.
The latest Selhurst Park cult hero said he would not argue with Benteke the next time Palace are awarded a spot-kick though, adding: "For me, if he wants to shoot, no problem!"