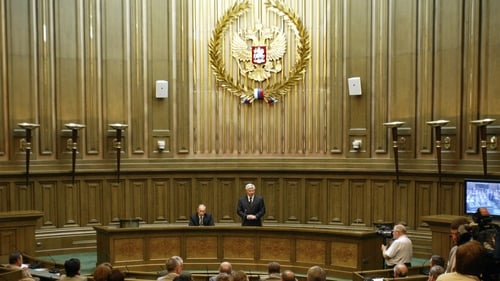 On Thursday, Russia's Supreme Court ruled that Jehovah's Witnesses was an "extremist" organization after the justice ministry applied for an order to shut down the group's national headquarters near St Petersburg, Russian TASS news agency reported.
Supreme Court judge Yury Ivanenko said Russia had chose to close down "the administrative centre of Jehovah's Witnesses and the local organisations in its fold and turn their property over to the Russian Federation".
Its property is to be confiscated to the state revenue.
Jehovah's Witnesses in Russian Federation have 30 days to submit their appeal for consideration by a three-person panel.
Human rights group Sova has argued that an "official repressive campaign" has been conducted against the movement for years and many of their members have been physically attacked.
Jehovah's Witnesses pray at a regional congress at Traktar Stadium in Minsk, Belarus, July 25, 2015. The country had banned them from distributing any literature as it was considered to break the country's anti-extremist laws.
The ministry was investigating the Jehovah's Witnesses' Russian headquarters near St. Petersburg over the previous year and claimed it discovered violations of a Russian law banning extremism.
The April 20 ruling to close the Jehovah's Witnesses is a direct interference with freedom of religion, effectively denying its followers the right to worship, and can not be justified as either necessary or proportionate.
Stacks of religious booklets sit in a courtroom after a local Jehovah's Witnesses leader was charged with inciting religious hatred for distributing literature about his beliefs in the Siberian town of Gorno-Altaysk, Russia, on December 16, 2010. The closure order directly violates the pluralism of thought and belief that is foundational to a democratic society and as the court has repeatedly affirmed, is "at the very heart of the protection which [the convention] affords".
The decision to seize the group's assets and close down its St Petersburg head office followed a request from the ministry of justice, which claimed it had found signs of "extremist activity" within the organisation.